Thursday, February 22 2018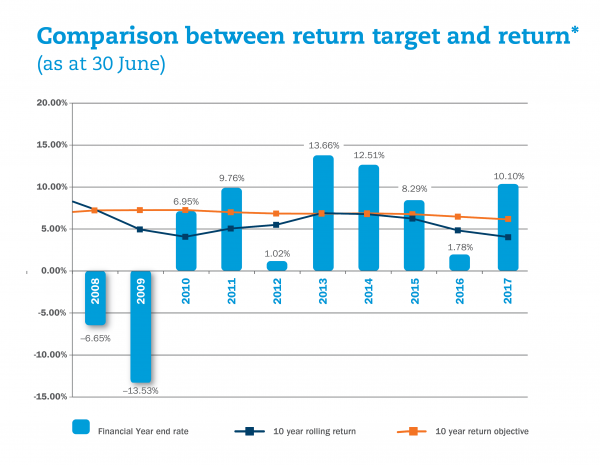 I received a really good question about my post yesterday on projecting retirement income and whether you would end up on the aged pension. Link to article here if you haven't read.
In the article I had a table showing projected Super balances based on achieving an annual growth rate of 6%.
Based on the example used if you had a Super balance of $200,000 today. You could expect to achieve a balance in 20 years' time of $641,427.
Invested at 4.5% returns that would give you an annual income of $16,500 a year allowing for the effects of inflation.
The question was that the calculations didn't allow for Super Contributions over the 20 years.
The chart actually does. It assumes a growth rate inclusive of contributions. Just because contributions are made to Super does not mean a super balance goes up. Super is not like saving unless you are 100% invested in cash. Your balance is not capital protected as many retirees found out during the GFC.
If you refer to the chart above this shows the growth rates of a leading Industry Super Fund (According to their TV Ads supposedly superior funds) over the last 10 years to June 2017. You will notice the fund had some fairly significant periods of negative growth particularly during the GFC and the following aftermath.
At this point people were paying money into their Super but seeing balances decline.
Even in the last few weeks people's super balances have been declining even though they were making contributions. Because the market has taken a hit.
The other thing to remember is Super also has deductions - tax, fees and insurance.
The 10-year average return for the above fund was 4.18%.
I don't doubt there are funds that have performed better than this but given the share market hasn't even got back to it's pre-GFC high I think 6% is being fairly realistic.
But for arguments sake I could make the growth rate 8%. This would only get you to $932,000. Still leaving a shortfall of over $1.7 million.
I'm not here to bag Super. That's not the point of my article. What I am here to highlight is that for most Australian's, their Super is not going to be enough. It's part of the mix but it's not the complete answer.
My concern is many Australians really don't understand how way off track they are. Which means if you want to be in a better position you need to have additional strategies in place.
In fact, an interview I heard this morning on the ABC again highlighted this issue. If I can get a transcript or link I'll get this posted.
Really good question and welcome questions and debate.
If you would like to do something about it then Click here to Book in for a FREE telephone appointment with me and we can talk about the steps you can take to start tackling it.

I look forward to talking with you

Greg Carroll
07 3849 9822
MORE THAN ACCOUNTANTS
JOIN our Facebook Investment Group