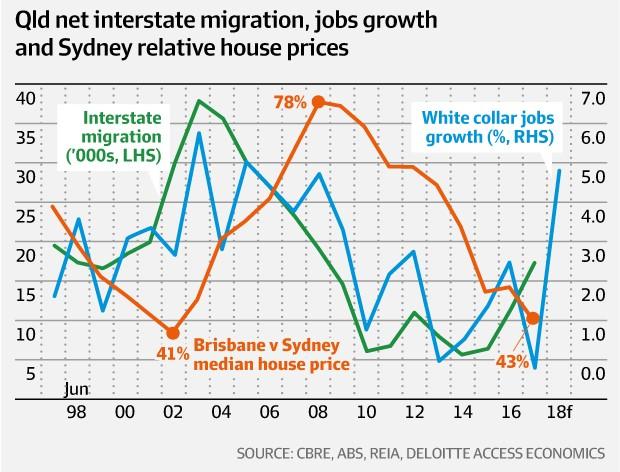 Queensland is in a historical sweet spot for home price growth with an analysis of interstate migration showing that the gap in home price between Sydney and Brisbane could soon start narrowing.
In 2002, the median Brisbane home price equated to just 41 per cent of a Sydney home – a historical low. But interstate migration to Queensland started to surge, peaking in 2003 at about 40,000.
Home prices started to rise as the interstate migration rose and the gap between median Sydney and Brisbane prices started to narrow.
Brisbane home prices were able to reach as much as 78 per cent of a Sydney home price in 2008.
CBRE researcher Ally McDade has analysed the numbers and highlights that the same process is starting to happen again.
​"At June 2017, levels of interstate immigration reached the highest quarterly and annual growth since 2008," she said, "Over the year to June 2017, interstate migration to Queensland increased by an impressive 50 per cent, or circa 17,500 persons."
"As more people migrate to the Sunshine State, the equity wealth built in Sydney is transferred to Brisbane," Ms McDade said.
"This increase in demand, coupled with a higher perceived value, has historically driven Brisbane real estate prices higher."
Large and small developers in Queensland are noticing the interstate change.
Stockland analysis shows that most interstate buyers to Queensland are coming from NSW, representing about two thirds of total interstate purchases in Stockland's south-east Queensland communities.
Victorian buyers accounted for a further 12 per cent of interstate purchases, followed by South Australia (8 per cent) and the ACT (6 per cent).