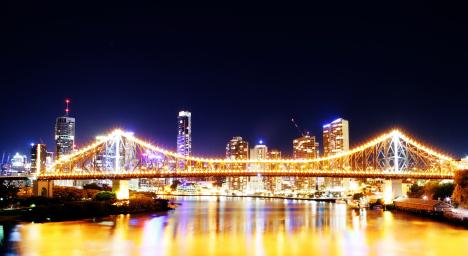 Brisbane is the only capital city tipped to buck the national trend of easing median house prices in real terms over the next three years, according to housing forecasters, BIS Shrapnel.
But its housing market outlook has warned of a looming oversupply of inner city Brisbane apartments.
The BIS Shrapnel Residential Property Prospects 2015 to 2018 puts Brisbane's estimated median house price in this year at $520,000, which researcher Angie Zigomanis said that was still below Brisbane's June 2010 peak in real terms. Coupled with low interest rates, Brisbane's affordability was at levels seen in the early 2000s.
A total rise of 13 per cent in the Brisbane median house price is forecast over the three years to 2018, while the median unit price is forecast to rise by a total six per cent. Its new dwelling supply overall, without any significant rebound expected in population inflows, was set to move the Brisbane apartment sector nto ioversupply, "with some impact across the broader market."
But significantly, Brisbane is tipped to be the only capital city that will not experience a decline in median house prices in real terms in the next three years.
Nationally low interest rates will support further price growth in undersupplied residential markets in 2015/16, but the spectre of tightening interest rates and deterioration of affordability will create conditions for price declines in a number of cities from 2017, according to the forecaster.
"But doomsday predictions for the residential market are likely to be overblown.
"Although Australia's residential property markets are forecast to steadily weaken from 2016/17, as a combination of rising supply and the prospect of a tightening in interest rate policy impacts on prices, any downturn will be similar in magnitude to that seen over 2011-2012."
According to the company's Residential Property Prospects, 2015 to 2018 report, Sydney and (to a lesser extent) Melbourne have broken away from the other capital cities, with both estimated to have recorded double-digit percentage rises in their median house prices in 2014/15.
Solid population growth, reasonably positive economic conditions and an underlying dwelling deficiency have underpinned this rise, and affordability is increasingly becoming a concern. In contrast, weaker recent price growth in the other capital cities means that affordability is not as strained, and it is subdued local economic conditions and/or an underlying excess dwelling stock that have impacted the market.
"Most capital cities are building apartments at record rates, driven by investor demand," said Zigomanis. "As these projects are progressively completed, strong tenant demand will be required to support rents and consequently values upon completion.
He noted the detached house market is less reliant on tenant demand and more exposed to owner occupiers. Together with the stimulatory effect of variable interest rates at more than 40-year lows, this is expected to support median house prices in most capital cities over 2015/16.
The strongest conditions over 2015/16 are forecast for New South Wales, Queensland and Victoria, where BIS Shrapnel estimates the markets are in overall deficiency at June 2015.