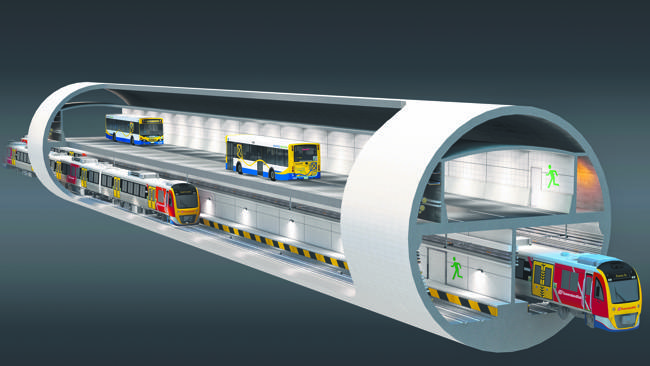 Brisbanites will have access to an innovative double decker public transport tunnel which will accommodate both rail and busway services under the new "UBAT" (underground busway and train) tunnel. The project is budgeted at $5 billion, around $3 billion less than previous Cross River Rail proposal.
Premier Campbell Newman announced the Underground Bus and Train project, a 5.4 kilometre tunnel with two train lines in the lower section and two busway lanes in the upper section.
"We've taken two of Brisbane's major congestion challenges – the Merivale train bridge and the Cultural Centre bus precinct – and come up with an affordable and elegant solution.
"The project we are announcing today delivers the public transport services needed for the next 50 years.
"A single 15-metre-wide tunnel will be built, requiring the largest borer ever used in Australia – almost two metres wider than the Clem7 and Airport Link tunnels."
Mr Newman said a public competition would be held early in the New Year to come up with a name for the project.
Lobby group Rail Back on Track described the UBAT plan as exciting and welcome news, but spokesperson Robert Dow said it must be constructed with future capacity demands in mind.