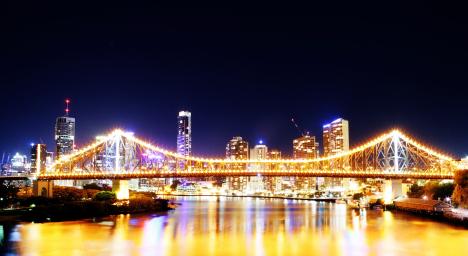 Raine & Horne are tipping 7% plus growth for Brisbane in the coming year.
While Brisbane finished behind Sydney and Melbourne last year, they believe it is well-placed for a comeback with tight supply and growing demand.
Raine & Horne's general manager for Queensland, Steve Worrad, said that while activity has slowed over the holidays it's often being reported as up 25% for the same time last year, with listings down by as much as 60%.
"Property prices in the southern capitals enjoyed a robust 2013, with the median house price in Sydney, for example, between $665,000 and $712,000 depending on who you listen to, while the median house price in Brisbane is an affordable $445,000," said Worrad.
"This gives Sydney retirees, especially, scope to sell a family home tax-free, and make a lifestyle shift to Brisbane and add the difference to their retirement savings."
He noted a new listing of a two-bedroom modern apartment, 52/2 Masthead Drive, Cleveland, which they expect will fetch $300,000 to $320,000. RP Data notes that it previously sold in December 2011 for $262,000.
"While attracting local interest, we've fielded enquiries from Melbourne-based retirees for this spacious apartment, which makes sense as it is located on the sought-after Raby Bay Marina, and has a beach at the end of the street and excellent river boardwalks," he said.
Fly In/Fly Out workers are also set to be a growing demographic in Brisbane, whether they're working in the mines or investment banking, he predicted.
Brisbane's New Farm in particular was mentioned as a good performer over 2013, with days on market at just seven.
This comes as confidence builds in Queensland economic sectors, with Australian Bureau of Statistics data seeing a 4.9% increase in trend dwelling approvals and a 0.5% increase in retail turnover during November of 2013. This may help increase the supply that Raine & Horne notes is currently lacking.
Acting Treasurer and Minister for Trade, John McVeigh, said that they were cutting red tape and the cost of business to help maintain Queensland's job creation and speed up building approvals.
"Importantly, this increase in trend dwelling approvals follows 23 consecutive monthly increases, with approvals now 50.6 per cent higher than December 2011," said McVeigh.
"This figure was driven by private other dwelling approvals, such as townhouses or apartments, which were 78.4 per cent higher over the year and at their highest level on record in November 2013," he said.
"We're working steadfastly to grow the property and construction sector, implementing a $15,000 Great Start Grant as part of the 2012-2013 Budget which has already seen 4100 grants given to Queenslanders."